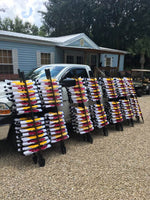 Multiple sizes are available!
mini spear (40 inches) $85
54 inch spears $120
6 foot spears $145
6 foot with torch $195
Click below to see more! website prices maybe different than POS sales!
Note; all products are handmade and orders can take up to 9 months due to a very high demand and material shortages IF YOU NEED YOUR ORDER SOONER THERE IS AN EXPEDITED OPTION TO RECEIVE WITHIN 1to 6 WEEKS! contact me personally 850-509-0909 Thank You! local pickup is available for free! John Lojan
Shop Now
Custom content
Talk about your brand
Hello my name is John Lojan and i was born and raised in Tallahassee,Florida.My Father took me to my first Seminole Football Game when i was 5 years old in Doak Campbell stadium. I have been a Die Hard Seminole fan since. Last year around this time i was on Warchant.com and saw a few fans asking where to get a replica Seminole Spear and i thought that would be a pretty cool thing to have and even better to try and make to sell to Nole Fans everywhere.So me and my Wife Emily started making them one at a time and posting on Seminole Facebook pages.It really got going and the next thing we were making and shipping them all over the Country. I started reaching out to Seminole Alumni Groups across the country offering them discount rates and even donating them(over 200 donatedto Seminole groups,clubs and other great causes ) to help them raise money for causes and scholarship funds! I think this is a great way to give back especially with the blessing of being able to create this business for my family. I donated a spear to the University center Club at Doak Campbell last September and it was stolen . The General Manager Tracy Marple put the incident on the UCC facebook page and tried to spread the word they wanted their spear returned! Well the Tallahassee Democrat saw this and wrote a story "the case of the missing spear".somehow the spear reappeared in January and it looked like some ran through a car wash with it. I went to the University Center Club and took them a nice fresh new spear!This is a pretty unique opportunity and we really enjoy helping spread the Nole Tradition. I recently we to visit Coach Bowden and i gave him a spear which him and his wife enjoyed! I want to thank all the Nole fans out there that have one of our spears and we look forward to making many more for you! 1000 and counting..............